We have had a Summer full of fresh blueberries thanks to our local community supported agriculture co-op.  One of my favorite yummy things to bake with the blueberries is a peach blueberry crumble.  With local Georgia peaches and our organic local blueberries the crumble comes out so sweet and fresh tasting every time.
For the Fruit:
2 pounds firm, ripe peaches (6-8)
2 teaspoons grated lemon zest (this recipe is just not the same without it!)
2 Tablespoons freshly squeezed lemon juice
1/2 cup granulated sugar
1/4 cup all-purpose flour
1 cup fresh blueberries (1/2 pint) – I sometimes added more!
For the crumble:
1 cup all-purpose flour
1/3 cup granulated sugar
1/4 cup light brown sugar, lighly packed
1/2 teaspoon kosher salt
1/4 teaspoon ground cinnamon
1/4 pound cold unsalted butter, diced
I first blanch the peaches and remove the skins.  Slice the peaches into thick wedges and place them in a large bowl.  Add the lemon zest, lemon juice, granulated sugar, and flour.  Toss well.  Gently mix in the blueberries.  Allow the mixture to sit for 5 minutes.  Spoon the mixture into ramekins (I use a big pie dish).
For the topping, combine the flour, granulated sugar, brown sugar, salt, cinnamon, and the butter in the bowl of an electric mixer fitted with a paddle attachment (you can use a food processor).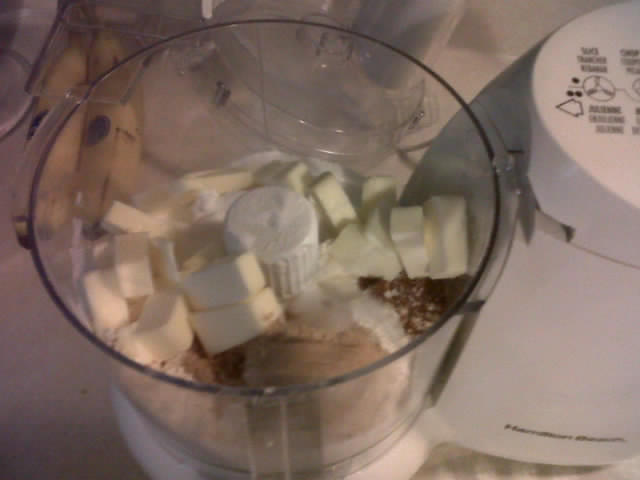 Mix on low speed until the butter is the size of peas.  Rub the mixture with your fingertips until it's in big grumbles, then sprinkle evenly over the fruit.  Place the ramekins on a sheet pan lined with parchment paper and bake in a preheated oven to 350 degrees F for 40-45 minutes until the tops are browned and crisp and the juices are bubbly.  Serve warm or at room temperature.