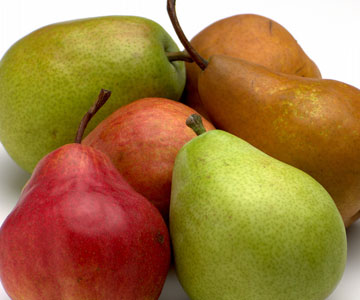 We were having dinner guests last week and I was looking for something new to make for dessert.  Well, I found it!  This Pear and Cranberry Crisp (I call it crumble, because there is nothing crisp about it!) from The Pampererd Chef is soooo yummy!  The nice thing is that I had everything, besides the pears, I needed for this recipe right in my pantry.  I doubled the recipe and it turned out just fine.  This is a fresh take on the same old apple crisp.  A very welcome change!  I am guessing you could make up some of this filling and freeze it to use whenever your sweet tooth is calling!
Filling
2 Tablespoons thawed, frozen cranberry juice concentrate
1/2 Cup sweetened dried cranberries
2 medium pears
1 Tablespoon sugar
Topping:
2 Tablespoons butter, melted
2 Tablespoons chopped almonds (I omitted)
1/3 Cup all-purpose flour
2 Tablespoons sugar
1/4 Teaspoon ground cinnamon
Thawed, frozen whipped topping or vanilla ice cream (optional)
Preheat oven to 375.  For filling, microwave juice concentrate in a small microwavable bowl on High for 15-25 seconds or until boiling.  Stir in cranberries, let stand 10 minutes to soften.
Meanwhile, core and slice pears.  Cut slices in half crosswise using a knife.  Combine cranberry mixture, pears and sugar; toss gently.  Spoon filling into a baking dish.
For topping, microwave butter in a microwavable bowl on High for 15-25 seconds or until melted.  Chop almonds.  Add almonds, flour, sugar and cinnamon; mix well.  Sprinkle topping evenly over filling.
Bake 30-32 minutes or until topping is golden brown.  Remove from oven, cool 15 minutes.  Serve with whipped topping or vanilla ice cream, if desired.