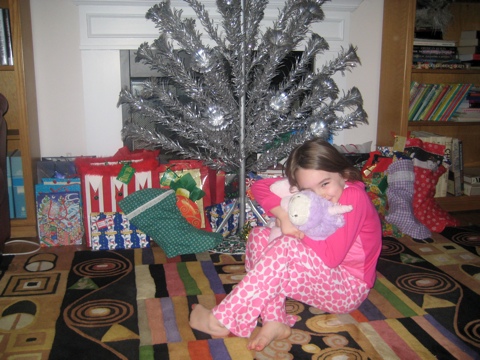 We are off to a great start for our Christmas day. We
travelled over 880 miles to get to NJ to spend the week with my
In-Law family. They are very gracious to host us here even though
they all have very busy schedules and lots of other
responsibilities. Kayla was concerned on our way up here though.
She could not remember if Nana and Poppa had a chimney. She has
seen lots of Christmas movies and all of them show that in order to
enter a house, Santa must have a chimney to slide down. We assured
her that they did have one and things were fine after that. It is
funny to watch Kayla's belief in santa develop. She is 5 this
Christmas and has always believed, but this year it is different.
She knows better than to believe in a jolly old fat man that
magically arrives in your living room by transporting through the
chimney. A man who brings you whatever you heart desires and all he
asks in return is for you to be "good". But, on the other hand
there is something so magical and dreamy about Santa that you just
cant help but believe! Last night as we were saying our prayers we
were talking about Santa one last time. I asked her if she thought
Santa might be scared of the dog and get scared away. She said "Oh
no, that would never happen!". She then said "I can't wait for my
unicorn pillow pet and jellybeans (yep, she asked santa to bring
her jellybeans!)." She had absolute faith that Santa was going to
bring her exactly what she has been asking for since Thanksgiving
weekend. She didn't say "I wonder if he's bringing it", or "I hope
he brings it!" Well, I hear some rustling around in the back of the
house, so I had better wrap this up. I do think that I want to
explore the faith of a child a little more.