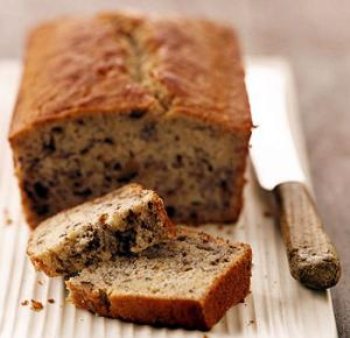 I love banana bread.  My favorite part of the loaf is the crunchy end piece – The outside crunch and the inside steamy softness!  Oh yes!!  In fact, it is against the law to eat that piece before Mama has a chance to have it!  This recipe is from Betty Crocker.  I have been using this for 11 years and have altered it every which way.  It always turns out nicely!
1 1/4 C Sugar
1/2 C Butter **Can substitute 1/4 C unsweetened applesauce for 1/4 C butter
2 large Eggs
1 1/2 C mashed ripe bananas (3-4 medium) **Can add other fruits in if you don't have enough banana…I like strawberries!
1/2 C buttermilk **Can use plain milk or half and half
1 t Vanilla
2 1/2 C all-purpose flour
1 t baking soda
1 t salt
1 C nuts optional **I throw in chocolate chips sometimes!!
Move the oven rack so the tops of the pans will be in the center of the oven.  Heat the oven to 350.  Grease the bottoms only of 2 loaf pans.  Could do muffin cups too.
Mix sugar and butter in a large bowl.  Stir in eggs until well blended.  Add bananas, buttermilk and vanilla.  Beat until smooth. (I leave the bananas a little chunky.  I like to find bites of fruit!)  Stir in the flour, soda, and salt just until moistened.  stir in the nuts (or chocolate – – you can even sprinkle chocolate chips on top of loaf after it is in the pan).  Pour into pans.
Bake about 1 hour or until toothpick inserted in center comes out clean.  Cool 5 minutes in pans on wire rack.  Loosen sides of loaves from pans; remove from pans and place top side up on wire rack.  Cool completely before slicing (Yeah right!!).  Wrap tightly and store at room temperature (We usually go through the 2 loaves in about 4-5 days).  Can refrigerate up to 10 days.
To have this for a weekend breakfast, you have to start early because it does take a long time to bake.  It is well worth the wait though and my daughter LOVES this bread!!