I wanted to make some homemade applesauce the other day and so I went to check the Pioneer Woman's website.  She delivered!  You can find her recipe here.
The basics:
6 pounds Apples, Peeled, Cored, And Cut Into 8 Slices
1 cup Apple Juice Or Apple Cider
 Juice Of 1 Lemon
1/2 cup Brown Sugar, Packed
1 teaspoon Cinnamon, More Or Less To Taste
 Optional Ingredients: Nutmeg, Maple Syrup, Allspice, Butter
I cut up the apples I had at home.  Mixed variety and not six pounds.  I also had no apple juice in the house.  I used white grape juice. (Yummy!)  Also, no lemon.  I did have an orange though.  So I juiced the orange and added that.  My family loved the results.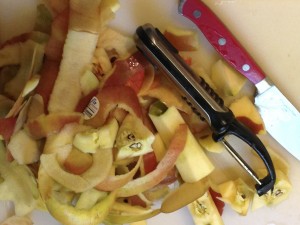 Lots of sticky fingers after peeling all those apples!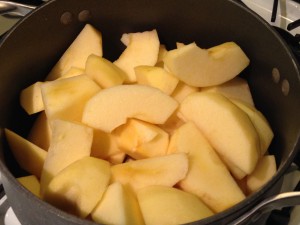 Quartered and ready to cook.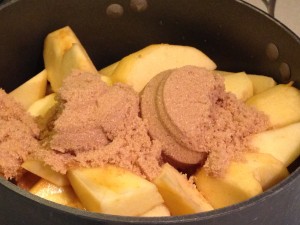 The magic ingredients.
All cooked down.  The Pioneer Woman runs hers through the food processor at this point.  If you want this as a side dish for dinner, I'd leave it chunky.  If you want sauce to put into recipes and to feed your little ones, puree away!
This night we were having kielbasa and sauerkraut.  A dish that requires chunky applesauce by it's side!  By the way, I LOVE my new Dutch oven that Chris bought for me.  Find one here.