I needed a little bit of family comfort yesterday.  There's nothing that fits this description more than my mom's Christmas breakfast soufflé.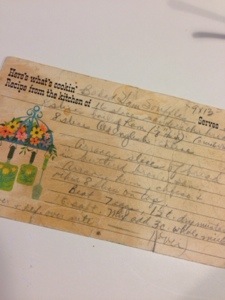 Baked Ham Souffle
9″ x 13″ pan, serves 8.  From the kitchen of Judy Forrer.  <3  This recipe makes a 9×13 pan so for our family will get two meals out if it.
16 slices sandwich bread with the crust removed
8 slices boiled ham (1/8″ thick)
8 slices old English cheese
7 eggs
1 and 1/2 teaspoons dry mustard
1 teaspoon salt
3 cups whole milk
3 cups corn flakes
1 stick of butter (melted)
Arrange slices of bread in a buttered broiler pan.  Arrange ham, cheese, and other 8 slices of bread on top.  Beat eggs, mustard, and salt.  Mix in milk.  Pour over the layers in the pan and refrigerate over night.  Crush the corn flakes and sprinkle over the top.  Drizzle melted butter on the crushed flakes.  Bake at 300 degrees for one hour.  If you need to hold the soufflé, put the heat back to 250 and leave in over.  It holds fine.
This recipe can also be made with cooked sausage if you have sausage lovers in your home.  Crumbled cooked bacon would work too.  I buy ham and cut into bite sized pieces or buy cubed ham.  I dislike the sliced ham because it seems to slide out of the piece.