During the Spring and Summer months, I purchase a produce box from a local farm.  They have put together a CSA (community supported agriculture) group of people who are interested in local and organic foods that are in season.  To find a local CSA, enter your zip code in a site like this one.  The food has been amazing.  I want to thank Sasha Johns (whom you can read more about over here on Middle Places) for introducing me to Riverview Farms.  This particular week we got gobs of corn.  We    L  O  V  E    sweet corn.  I think it is good raw, grilled, boiled, roasted, in soup, in chili, in salad, you name it, I love it!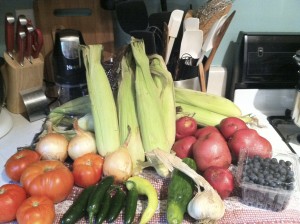 One of our boxes this Summer.  There's corn, tomatoes, onions, garlic, potatoes, blueberries, cucumbers, and peppers in there!!  Oh my, yes!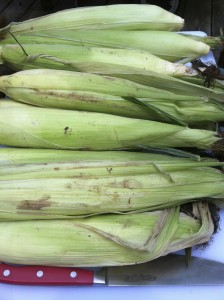 A tall stack of ears to shuck.  I bring a knife and a cutting board out to the back porch with me to do this job.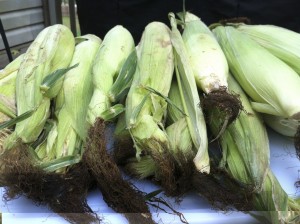 Beautiful.
This little green guys is the reason why I bring the knife and cutting board.  He's harmless enough.  I just whack the end off with my big knife and chuck that part over into the woods.
Isn't it pretty?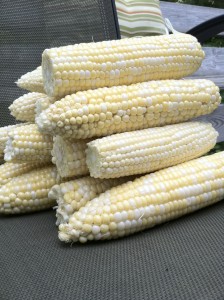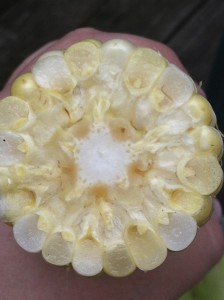 I found a star in the middle of this one.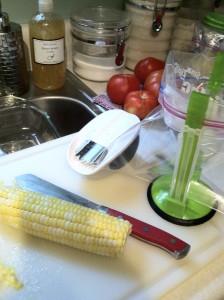 Most of this batch of corn will go into the freezer.  I do a quick blanch and then strip the corn off of the cob.  Chris found the green contraption for me at the General Store in Greenville, SC.  It holds my freezer bags upright for me so that I can measure and load in my produce.  I love it!
So, once my produce is in the freezer, it waits for the perfect recipe.
Why not try this one for an upcoming family meal.  I got this recipe from my mom who got it from a co-worker years ago.  My husband and oldest daughter love corn as much as I do, so this has become a favorite.
Warning: This recipe does take some time to prepare and bake.  Not a "throw together" dish for a quick dinner meal.
Cheesy Corn Pudding
Recipe courtesy Aida Mollenkamp
Prep Time: 10 minutes (Last time I made this, it sure seemed like A LOT longer. And, it makes A LOT of dirty dishes.)
Cook Time: 55 minutes
Serves: 8-10 adults
"This is my take on my step aunt's corn pudding.  I added in Gruyere for nuttiness and onions for sweetness.  The whole thing is lightened up by separating the eggs and folding in beaten egg whites." ~ Mrs. Aida
Ingredients:
3 tablespoons unsalted butter, plus more for coating your dish
2 medium garlic cloves finely chopped
1/2 white onion, finely diced
salt and freshly ground black pepper
3 large eggs
1 cup half-and-half
1/4 teaspoon ground nutmeg
3 cups fresh or defrosted frozen corn kernels
1 cup shredded Gruyere (about 4 ounces)
1/4 cup all-purpose flour
Directions:
Preheat the oven to 400 degrees F and arange an oven rack on the bottom rim.  Coat a 2-quart baking dish with butter and set aside.  Bring a lage pot of water, over low heat to a simmer.
Melt 3 T butter in a medium frying pan over medium heat.  When if foams, add the garlic, onions, salt, and black pepepr.  Cook until softened, about 5 minutes.  Set asisde to cool slightly.
Meanwhile, separate egg yolks and whites.  In a large bowl, whisk the egg yolks, half-and-half and nutmeg together.  Stir in the corn, cheesse, and cooled onion mixture.  finally mix in the flour and combine well.
Beat the egg whites until they just hold onto the whisk (soft peaks).  Stir in about 1/3 of the whites into the batter, then gently fold in the rest of the whites.  Turn the batter into the prepared dish and set the dish inside a roasting pan or larger baking dish.  Fill the roasting pan halfway with the simmering water and put in the oven.  Bake until the pudding is golden brown and set in the center, about 30-45 minutes.  Serve warm.