My mom gave me the sweetest gift when we were at her house last week.  She gave me a set of dishcloths.  They are beautiful and I was tempted to not even use them.  I decided to go ahead and wash with them so that they'd be out and with us instead of in some closet somewhere, forgotten.
There is something about homemade gifts that are so special.  You know the person took time from their schedule to work on the gift and thought of you while doing the project.
Aren't they beautiful?
Do you see the pink hearts in the design of this one?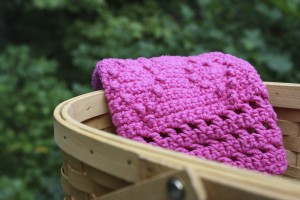 Maybe you are looking for something homemade to give as a gift this year.  I think that is a very great idea.  If you'd like information on a gift like these dishcloths, message me at valerie@threeoclockshop.com.
I have some really crafty friends and would love to highlight your special talent, especially as the gift-giving season is coming.  Message me info and we'll spread the word.