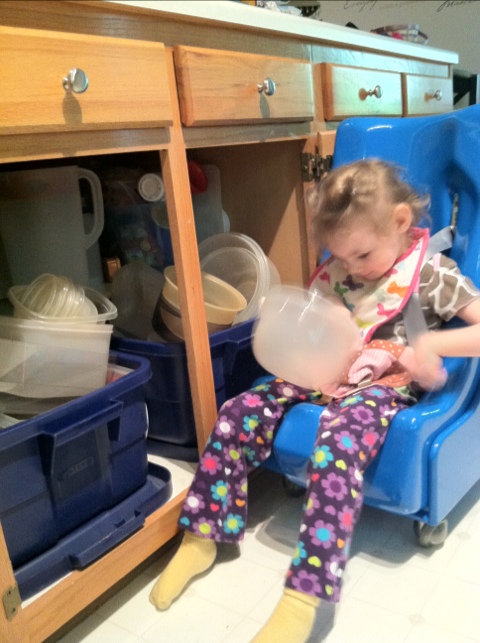 First of all, please let me say that I am pretty sure miss-matched clothes are VERY "in" this year!  Anyway, even if they aren't, this girl is so super cute!
We borrowed this TumbleForm seat from Rebekah's school over Spring break to see if something like it might work as some in-home seating for her.  Rebekah's teacher said that the chair had not been used for Rebekah in the classroom but that we could try it out at home. I was optimistic that we could somehow make it work for Rebekah and also adapt it so that it could be another option for her in the classroom as well. We had a great time this week trying the seat in different areas of the house and in different positions for Rebekah. While I was cooking dinner, Bekah had a chance to play and explore on her own in the Tupperware cabinet for the first time EVER. I realized what a huge thing this was for our sweet little girl.
You see Rebekah can't sit, walk, or crawl on her own.  This makes movement quite restricted for her.  In our home, Rebekah has a high chair strapped into our dining room table chair that she is quickly outgrowing.  Something like this:
It is very close to impossible to get her little arms in and out of the straps without bending them into all sorts of weird angles.  Other than this tiny highchair, Rebekah has no seating in our home.  She is either in her highchair, rolling on the floor, in her crib, or being held by one of us in a sitting position on the floor.  As you can imagine, this can become frustrating for Rebekah and for us.
It was so fun to see her adorable face light up with excitement when I opened the cabinet and let her have at it.  She discovered different shapes, different colors, and different textures.  She learned that different bowls make different sounds when you jabber into them and bounce them onto the floor.  She also learned that Mama and Daddy will pick them up if you slide them far enough across the floor.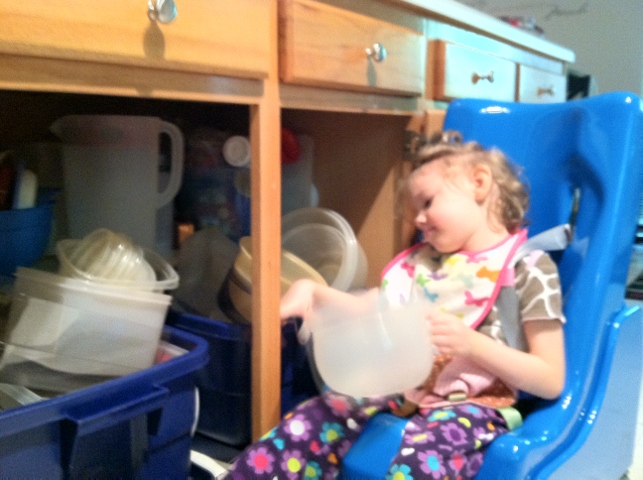 As Rebekah ages, we are learning that she has quite a sense of humor.  Rebekah loves to make other people laugh and has a good belly laugh anytime she finds something particularly funny. – – Usually big sister Kayla gets the best laughs! We love to hear her laugh!
We had to try a Tupperware hat.  Hats are the best!
This little smile lights my life!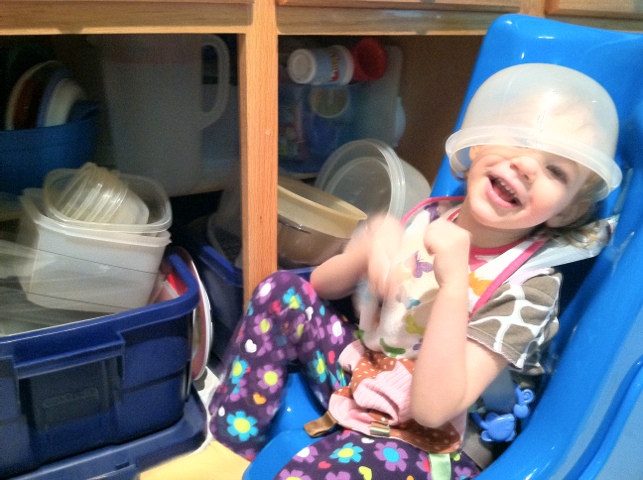 Well, the TumbleForm had to go back to school this week.  The good news is that Mama made a strap to send back to school so that Rebekah can now use the seat in the classroom.  This chair will now be another option for her while she is at school.  We've also found a similar seating system that we think will work for her here at home.  (More on this later!) Hooray for options that will equal access and interaction!
See the cool pink buckle strap my Mama made?!?