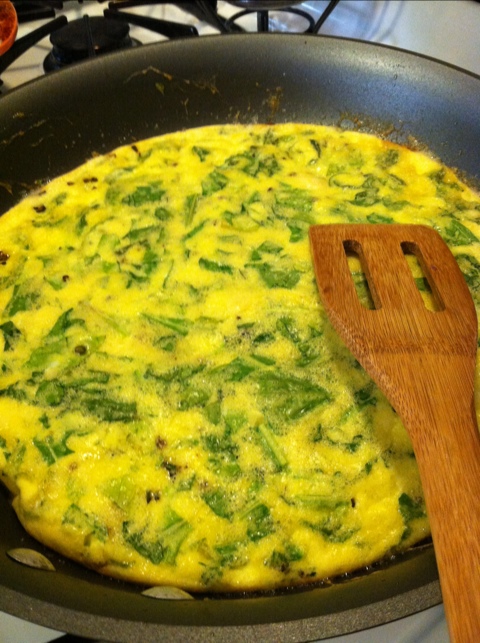 CSA (community supported agriculture) veggie box from Riverview Farms had garlic scapes in it this week  – – I had no idea what they were!!  I am glad to know now!
We tried this very yummy recipe that they gave us on their website (grassfedcow.com).  I am so glad that they are offering menu ideas on their website this year!  What an adventure it has been to have these fresh vegetables and explore new tastes and recipes.
3 tablespoons olive oil
1/2 cup finely chopped garlic scapes
8 eggs
1 cup (1/2 lb.) finely chopped arugula
1/2 cup grated Parmesan cheese
salt and pepper to taste
Preheat oven to 350°.
In a 10-inch ovenproof skillet, heat olive oil until hot and then sauté garlic scapes until tender, about 5 minutes.
While garlic scapes are cooking, in a large bowl, stir together eggs, greens and Parmesan. Season with salt and pepper.
When scapes are tender, pour egg mixture into skillet and put skillet into oven. Bake uncovered for 10 minutes or until the top is set. Cut into wedges and serve hot, warm or cold.
We used less scapes only because we didn't have enough to make 1/2 C.  The frittata turned out great!