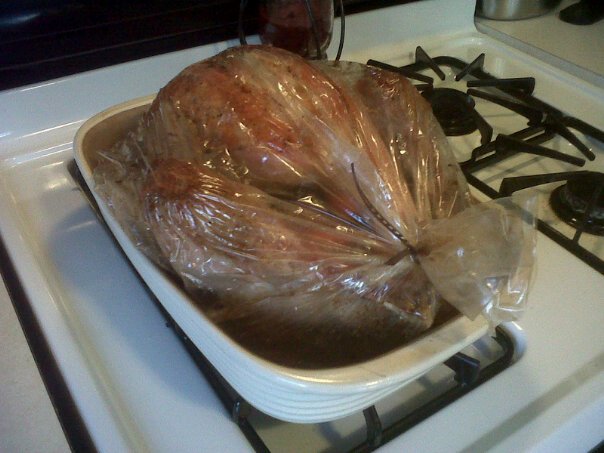 Well, I did it!  I roasted my first turkey EVER!
12 lb thawed turkey  (follow the directions on the package to thaw)
1 oven bag
2 T flour
2 T butter room temperature
2 pinches of salt
sprinkle of garlic powder
freshly ground pepper
one apple
one lemon
two carrots
other veggies are optional
I decided to wing this and follow a few different instructions on roasting a bird.  Most called for onions, I didn't have any.
Preheat your oven to 350 degrees and give yourself 3-4 hours for a 12 lb turkey.
Open the oven bag and put the 2 T of flour inside.  None of the recipes said WHY to do this, so I shook the flour around to coat the inside of the bag so the bird wouldn't stick…I don't know if it helped or not.  I made the mistake of not having my pan and bag ready before I rinsed the bird and had to put it down to get them ready then redo the bird.  =(
I rinsed the bird in cold water inside and out then patted it dry.  Chris help the bag open while I shoved 'er in.  Mix the butter and spices (can be any spices you really like, I suppose).  Smear the butter on the skin of the bird all over the legs and breasts.  The butter will make the skin a golden brown.  Cut the lemon, apple, carrots, and whatever other veggies you have and put them inside the bird.
Close the bag with the oven safe fasten provided with the bag.  Puncture the bag a few times with a fork.  This is harder than it really seems and you will have to work at it.
Put the pan in the preheated oven with the legs towards the door.  The oven is hottest in the back and you want the thickest part of the bird in the hottest part.
The turkey will be done when the thigh meat is 180 degrees or hotter.  Also check that the liquid that runs from the bird when you cut into the thickest part does not run pink.
I will have to do another entry once we have eaten this bird! =)