Oh yumm!  This recipe is from 2010 Gooseberry Patch Halloween magazine.  They have some other recipes that I have tried and want to get up here soon! (Like the crustless pumpkin pie!!)
I got brave and took this recipe to a "Mommy Play Date" without ever trying it first!  It really could have been relationship suicide!  But, man, it was so delicious.  Kayla loved it too so we will definitely be doing this again!
24 oz package of frozen diced potatoes
2 Cups  shredded Colby cheese
1/4 Cup  onion, minced
1 Cup  half-and-half or milk
1/2 Cup  beef broth
2 Tablespoon butter, melted
1 teaspoon salt
1/4 teaspoon pepper
1/8 teaspoon garlic powder
Garnish: crispy cooked and crumbled bacon.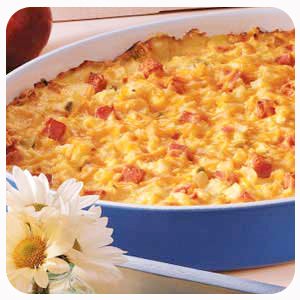 First of all – – crispy cooked and crumbled bacon is NOT a garnish!  It is a vital part of this dish!
Combine frozen potatoes, cheese and onion in a large bowl; set aside.  Mix remaining ingredients in a separate bowl; stir into potato mixture until well blended.  Spoon into a greased 13×9 baking pan.  Bake, uncovered, at 425 degrees for 45 to 60 minutes.  Garnish with bacon if desired.  Serves 8-10.
Now, I did about that amount of potatoes but probably a little more.  I used more cheese (yummmier!) and more onion.  I used milk and didn't measure the seasonings.  I even made this up the night before and put it in the fridge.  I then baked it off while I was getting ready for our play date.  It took the full hour to bake, but maybe because my pan was still a little cold from the fridge.  Anyway, it turned out nicely, travelled well, and will soon be a yummy favorite of our family.  Happy Hashbrown Tummies to you!