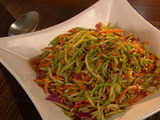 Does anybody like Big Daddy (Aaron McCargo) on the Food Network?  He is the one who won the "Next Food Network Star" challenge last year.  He is funny and I am finding that I really like his style!  So we watched this episode and Chris said – – "Oh, make that please!"  It is very yumm!
1 cup shredded carrots
2 cups shredded broccoli slaw (I bought a bag at the store and added more carrots to it – it already had red cabbage and some carrot)
1 re jalapeno, seeded and minced (I did a green one because I had one from making Mexican lasagna that week and I did mine julienne)
1/2 medium red onion, thinly sliced
1/4 cup cider vinegar (I used rice because I had it)
1 lime, zested and juiced (I need to buy a zester!)
1/2 teaspoon kosher salt
2 tablespoons sugar
1/2 teaspoon red pepper flakes (left this out)
1/2 teaspoon cracked black pepper
2 tablespoons extra-virgin olive oil
In a large serving bowl, combine the carrots, broccoli slaw, jalapeno and red onion.  Set aside.  In a small saucepan, add the vinegar, lime zest, lime juice, salt, sugar, red pepper flakes, and the black pepper.  Bring to a light boil over low heat.  Remove from heat and allow to cool for a few minutes.  Add the olive oil to the vinegar mixture, pour over the vegetables and toss together to combine.  Refrigerate until serving.
To me, the farther ahead of when you are serving this that you can make it the better.  The veggies wilt a little bit into the vinegar.  Soooo goood.  This was better the next day for a cold lunch.
The bag of slaw that I bought came with pine nuts, sunflower seeds, and dried cranberries.  I put all of these in too and I really liked it, but Chris was sad that I didn't follow the recipe.  I guess that means that I have to make it again soon!